Marathon success for Treloar's!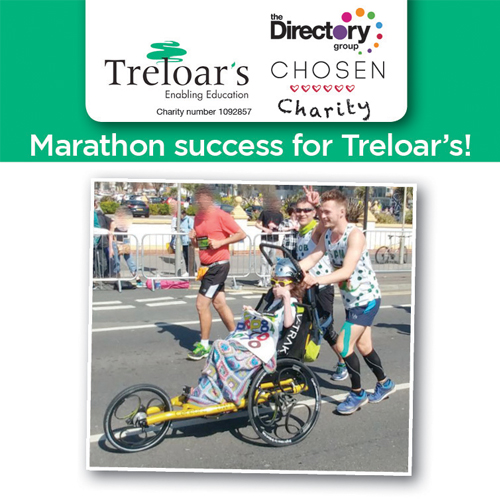 It takes a lot of drive and determination
 to run a marathon 
and Treloar's are
very proud that 
this year we have
 12 runners in the 
London Marathon
 who between them
have raised over
 £20,000.
This money 
is used to provide 
the specialist care, 
education and equipment that the children and young people needs to access their education and become as independent as possible.
Treloar's also had a very special runner in the Brighton Marathon. 11 year old Poppy attends Treloar School and has quadriplegic cerebral palsy, which means she has very little controlled movement. She can't sit, roll, or fully control her upper arms. The only thing she has control over are her eyes and mouth with which she can control equipment. She can't control her own wheelchair, at the moment, so has to be pushed wherever she needs to go. She has always had huge aspirations and loves to challenge her disability so she decided that she would like to run a marathon. She roped in her Dad and brother to help and in April the three of them completed the Brighton Marathon in just over 5 hours – Poppy being pushed the entire way by her brother and she loved every second.
Poppy and her family have raised £2,300 and her "can-do" attitude is a real inspiration to all the young people at Treloar's, as well as all the staff! She's now signed the family up for the SuperHero Tri in August – there's certainly no stopping her!! Feeling inspired? If you would like to take on a challenge in aid of Treloar's then get in touch – www.treloaractive.org.uk
Come and see Treloar's in action and find out more about our work at our Supporter's Day on Wednesday 14th June 10:30 – 12:30. To book please call 01420 547 445 or email Elaine.walker@treloar.org.uk. We hope to see you there!