Alton Watercress Line Bus Rally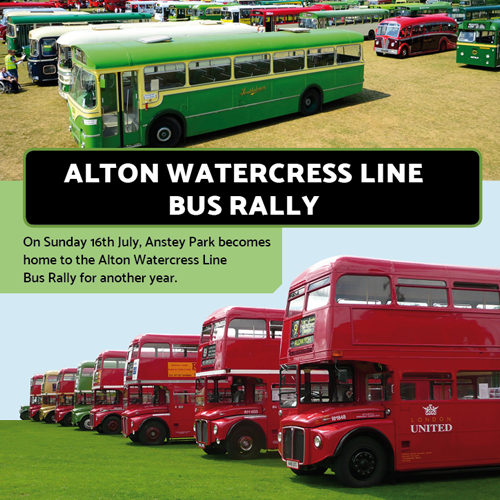 On Sunday 16th July, Anstey Park becomes home to the Alton Watercress Line Bus Rally for another year.
After the success of last years event, in which the day attracted over 5,000 visitors from far and wide, this year is set to be even bigger and better than before. The Alton Watercress Line Bus Rally is one of Britain's largest Bus Rallies & Running Days, so the day is an absolute must for any enthusiastic motorists out there!
The Rally showcases a wide range of buses and coaches, from the large to the small and from a variety of operating areas. In fact, there are 150 different buses to feast your eyes on! Alongside the coaches and buses, there will also be a large display of other vehicles, ranging from classic cars, motorcycles, vans, emergency services to military vehicles. The Park will be packed with historical vehicles in a variety of models and from all generations, so spare a few hours for your strolls around the interesting exhibits on display and for browsing the fantastic products on offer at the 50 sales stands.
The Running Day aims to re-create the bus operations of the 50's, 60's, 70's and 80's eras. Hop on a bus and watch the beautiful Hampshire countryside pass you by as you ride along the network of free bus services operating from Alton to surrounding villages. Buses will also be connecting with certain Railway Stations, including Medstead, Four Marks and Ropley. Taking a trip to the locomotive shed at Ropley train station will enable you to witness the interesting restoration work underway on the steam engines too. What's better is these bus services will be frequent and are absolutely free!
But the entertainment does not simply stop at buses. The Watercress Line, part of Mid Hants Railway, will be operating steam and heritage diesel trains from Alton to Alresford. Watch the traditional trains as they travel by or hop on board and let it take you on a journey.
The event will be open from 10am-5pm. Entry is free and dogs are welcome at Anstey Park. Visit www.watercressline.co.uk/product.php?xProd=29 Anstey Park, Anstey Lane, Alton, Hampshire, GU34 2NB