The Beauty Of Camping...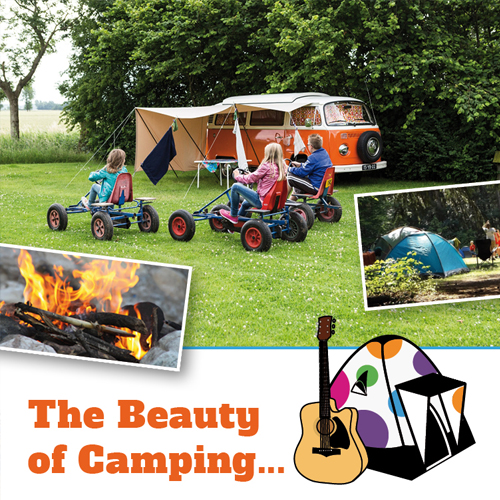 Taking a trip into the wilderness and sleeping under the stars is a magical experience. The beauty of camping is the opportunity to live amongst wildlife for an exciting holiday that will not cost you a fortune. And there is no better time than summer to reconnect with nature.
Camping gives us the chance to turn our backs on the demands of modern day life and the opportunity to truly unwind in an area without any wifi connection. Children are able to put down their iPads and instead engage in an exploration of the outdoors. Whether your exploration is visiting the gems in our stunning local surroundings or if you wish to travel further afar, there is always somewhere new to discover.
Not only is camping fun and mentally beneficial, it is also great for your physical health too. The entertainment you engage in whilst exploring the wonders of nature is largely exercise based – think long woodland walks, cycling, swimming or a football kick-about for some group fun in the sun. All of your explorations in the fresh air will ensure you gain your daily dose of vitamin D too.
Camping trips are renowned for their memory making and bonding time with friends and family. There is also no need to leave your furry friends at home, as most campsites allow dogs too. Enjoy summertime barbeques of burgers and hotdogs and bring a guitar to play classic campfire songs so you can belt out some ballards whilst you toast marshmellows on the open fire.
The trip is sure to be educational too. Camping opens your mind to new experiences and enables you to develop new skill sets as you are able to learn about the wildlife that inhabits the local area, how to build a fire and put up a tent, how to catch a fish and how to stay safe in the outdoors.
And camping suits everyone's budget as it can be as basic or glamorous as you please. Stay in a yurt, a homely wooden tent covered in skins for an authentic experience, splash out for a stay in a cute gypsy caravan, or keep in simple and traditional in a tent. There really is something for everyone.