The best summertime walks in the area...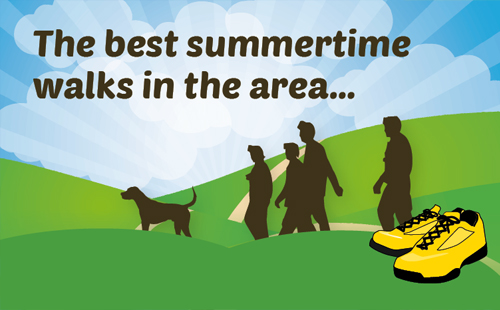 Our local areas landscape leaves plenty to be explored and - lucky for us - the beauty of some of England's most inspiring countryside can easily be experienced on foot, especially during the stunning summer months.
Hampshire has a huge network of 13 long distance routes for the more serious walkers, including the Wayfarer's Walk from Portsmouth to the Berkshire border, the Solent Way from Milford-on-Sea to Emsworth, the South Downs Way National Trail from Winchester to Eastbourne, and the Shipwright's Way from the South Downs National Park to Portsmouth Harbour.
Hampshire also (luckily) has a range of shorter, scenic walks which are perfect for people who love the outdoors. Enjoy the picturesque 7 mile Mill Trail along the River Test in Whitchurch, or discover the natural beauty of Selborne on the Monk's Walk. Whether you want to walk just a section, or complete the full trail, you'll be sure to take in some great views along the way.
If you are more interested in literature than long country walks, yet wish to try exploring both, then Hampshire's vast selection of literary walks could be the perfect option for you. You can follow Jane Austen's footsteps through a circular walk from Chawton to Farringdon or if it's poetry that calls your name, the Edward Thomas walk has stunning views of the South Downs and hangers. This 4 mile circular walk explores the area round Steep, near Petersfield, which was an inspiration for the poet. For more information on literary walks in Hampshire, and maps with the routes, visit www.easthants.gov.uk/visit-east-hampshire/walking-and-cycling-east-hampshire.
If you do not cherish the thought of getting stuck in nature, then you are in luck, as Hampshire is also home to three vibrant cities with a number of insightful and historical walks: Portsmouth, Southsea and Winchester. A particularly popular walk around Old Portsmouth has it all… sea views, historic monuments mixed with new developments, the busy harbour mouth and some great pubs and restaurants. Visit www.walkinginhants.co.uk/portsmouth.php and click through to 'Old Portsmouth Walk' for further details on the route.
The wide range of locations and scenery we all have on our doorstep ensures there is a walk for everyone, so get out the house this August and visit somewhere new – on foot!
To find out more about walking in Hampshire, visit: www.walkinginhants.co.uk