Clarks Auto Service Ltd Macmillan Coffee Morning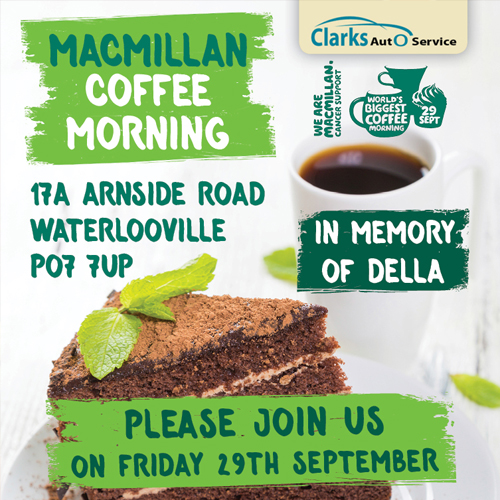 Clarks Auto Service Ltd are holding a Macmillan coffee morning in memory of Della, a close work colleague and friend who sadly has recently lost her fight with cancer.
Taking place on Friday 29th September from 10am – 2pm, Clarks will be opening up their garage to the public by extending the invite to everyone in the local area. This is an opportunity for the community to get together to raise money for Macmillan, a charity which offers help and support to people facing cancer. Last year alone Macmillan raised £29.5 million, and this year are hoping to raise even more.
Having or attending a Coffee Morning is the perfect chance to catch up over a cuppa, enjoy some gorgeous treats and help Macmillan be there for people facing cancer. At Clarks there will be delicious cakes, fudge, biscuits, tea and coffee – as well as a raffle and games.
We look forward to seeing you.
Clarks Auto Service Ltd are based at: Unit 17A, Arnside Road, Waterlooville, PO7 7UP. Donations are welcome either on the day or beforehand, just contact Jacqui at jacqui@clarksautos.co.uk for more information.