Emsworth Food Fortnight 2017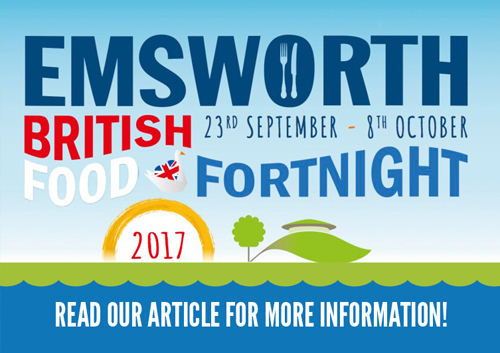 Since its foundation in 2014 the Emsworth British Food Fortnight has not only won National Awards but has become one of the most successful food events of its type in the UK celebrating local food, local people and Emsworth itself.
Emsworth will once again be participating in British Food Fortnight, which this year runs from 23rd September to 8th October. The brainchild of Love British Food, British Food Fortnight is a wonderful opportunity for Emsworth to showcase its food heritage - but more than that it's about the community coming together to celebrate itself through food. Three words sum up what this fortnight is all about:
Community • Education • Celebration
There is an amazing programme of events and activities over the fortnight from local producer Markets to Apple Pressing Day, from a Community Seafood Lunch on the Quay to a Beer and Cider Festival and so, so much more. Emsworth businesses will be pushing the boat out this year too, with tastings, demonstrations and special offers. Once again Emsworth is working with local Primary Schools, Colleges of Further Education and supporting the local Beacon Food Bank.
Some of this year's main events include:
Emsworth Apple Pressing Day – Saturday 23rd September
The 'Great British Menu' College Lunches - 3 local catering colleges take over the Brookfield Hotel and design, prepare and serve a 'Great British Menu'
Highbury College – 27th September, Chichester College – 28th September, Fareham College - 5th October
Emsworth Beer and Cider Festival - Friday 29th September to Sunday 1st October
Emsworth Market Day with Hampshire Farmers' Market - Saturday 30th September – St.Peters' Square
The Emsworth Wine Fair - Saturday 30th September
A 'Thought for Food' Local Showcase Market - Saturday 7th October
A Special Community Harvest Festival Service in St. Peter's Square - Sunday 8th October 11.30am
These are just a taster of what's to come as will be revealed when this year's programme is released Monday 28th August at the Emsworth Horticultural Show. The programme will contain a full listing of events and activities from special menus and tastings and much, much more in many of Emsworth's restaurants, cafes, shops and public houses that both residents and visitors can enjoy.