The Big Pink (Breast Cancer Care)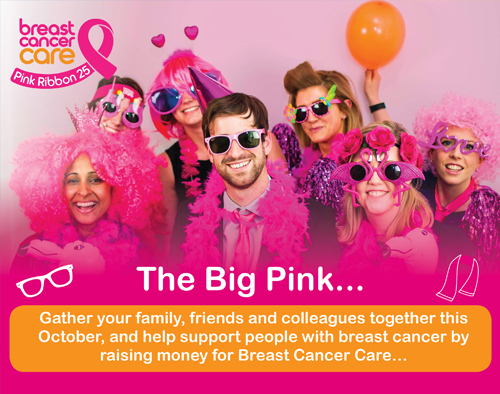 Gather your family, friends and colleagues together this October, and help support people with breast cancer by raising money for Breast Cancer Care…
The Big Pink is an easy way to raise money for the charity organisation Breast Cancer Care, which helps and supports individuals and families facing breast cancer. Money you raise can help people with breast cancer get the support they need by calling specialist nurses on a free helpline, can maintain an online community which allows people with breast cancer to feel less isolated, and can help provide people with breast cancer the vital answers they need right now by funding five invaluable information resources.
Visit the Breast Cancer Care website to find loads of great resources for your event, including downloadable posters, email banners and press releases, so you can spread the word about your event however you see fit! There are also a number of games to download for the event, and information on what your money does and how to give it.
How to get involved…
Host an event at work!
Some ideas could be to host a bake and buy sale, have an afternoon tea party, or donate your lunch money and gather together to share a meal. As long as it is pink, anything goes!
Host an event at home!
Gather your friends and family for a fun (and pink) night in, and make some precious memories. Donate the money you would have spent going out, and take part in some fun games to truly make the night special.
Host an event in the community!
Dress up in pink and bring the whole community together for a fun event for families. Plan a dance evening, a quiz night, a charity walk, or a movie night, and raise money while you have fun!
This truly is a great way to raise money for an amazing cause while having a good time, so visit www.breastcancercare.org.uk or email thebigpink@breastcancercare.org.uk for further information!