Pay It Forward This Christmas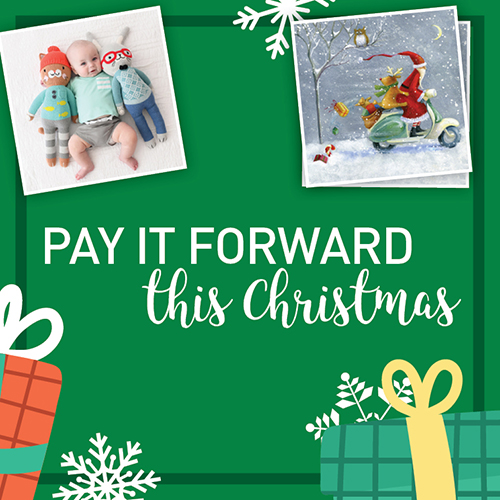 An act of kindness can make a huge difference in the lives of those receiving the special gesture. The Directory Group has launched its Pay It Forward Christmas campaign where somebody responds to a person's kindness to oneself by being kind to someone else.
Here are some ideas on what you can purchase to bring a smile to another person this festive season.
The Cuddle + Kind Doll
Each doll is ethically produced and lovingly handcrafted. When you purchase one doll it provides 10 meals to children in need.
www.cuddleandkind.com
Angel Tealight Candle Holder
This tealight candle holder is £15 on the Breast Cancer Care website with all profits going back to the charity.
www.breastcancercare.org.uk
Fill the cupboards
Fill a cupboard this Christmas. We all need food – so help someone who may need support the most.
Christmas Card
Encourage someone with a handwritten Christmas card. From around £3 from the Charity Card Shop proceeds go to charities such as Cystic Fibrosis support.
www.charitycardshop.com
Faith in Nature Beauty Bag
These bathroom gift sets from Faith in Nature is ethically produced using naturally derived ingredients. Purchase at the RSPCA store at £21.99.
www.shop.rspca.org.uk