10 Random Acts of Kindness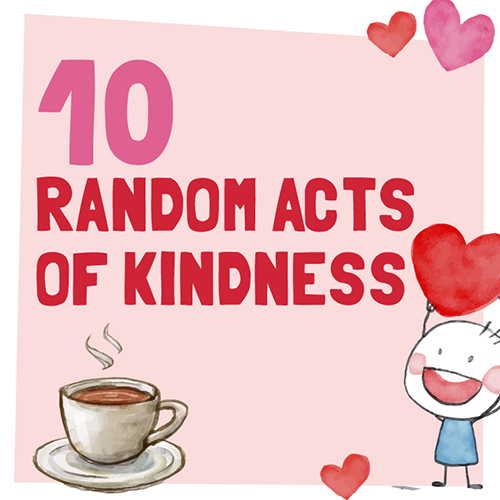 A random act of kindness can make a huge difference in a person's life. With the National Random Acts of Kindness Day taking place on 17th February, the event continues to grow in popularity and is celebrated to encourage the positivity. We have listed 10 suggested ideas you could carry out to encourage another person.
1. Pick up litter on the beach
Picking up litter along our shorelines can not only support the environment, but look pleasing to the eye to those visiting our beautiful area.
2. Make dinner for a family in need
Many of us will know a family who could do with some support. If you decide not to cook for a family – then perhaps provide them with the ingredients for a meal.
3. Participate in a fundraiser
Charities can make a huge difference in our community. Identify a cause which is meaningful to you and work towards supporting them.
4. Plant a tree
For those environmentalists, you could plant a tree in your garden to encourage natural beauty while also benefiting the air.
5. Make someone breakfast in bed
Anyone would like to think breakfast in bed is something you regularly prepare for a loved one. However, if not, it is a highly valued random act of kindness to kick-start the day.
6. Donate your hair after a haircut
Your hair can make wigs for people who require it most. Don't just throw it away!
7. Take time to listen to someone
A five-minute conversation can be valued by many people. Listen to someone who may perhaps be lonely, homeless, elderly. Listen to their story and encourage through conversation.
8. Pay for someone's morning coffee
Our society appear to live on coffee! Offer to pay for someone else's caffeine boost. They will be appreciative, and you will feel great too.
9. Reconnect with old friends
Appreciate the good memories you shared together.
10. Be kind to yourself!
Treat yourself! It can be easy to forget about YOU so make sure you invest in the great person you are.
Don't forget, it doesn't have to happen only on this day; you can continually seek opportunities to pleasantly surprise someone every day.