Support our Chosen Charity The Elizabeth Foundation on Deaf Awareness Week
Published on 18th May 18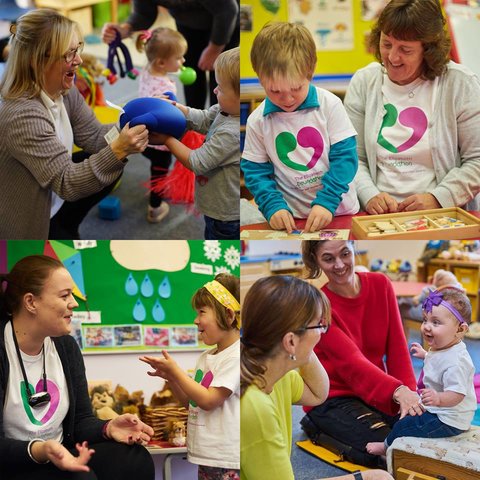 Deafness is something which isn't commonly spoken about – yet it affects around 11 million people across the UK.
Of that figure, 50,000 children have hearing loss. Around half are born with hearing loss while the other half lose their ability to hear during childhood.
These upsetting figures are a reminder of how fortunate many of us with good hearing are – especially among children.
On Deaf Awareness Week, we highlight the wonderful work taking place locally to support kids who are deaf.
The Elizabeth Foundation, one of The Directory Group's Chosen Charities based in Hampshire, is a national charity supporting infants and pre-school children with hearing loss. They also provide support to their families.
It helps babies and children with all degrees of hearing loss learn to listen and speak.
It does this by providing pre-school education services at its Family Centre, along with help, support and advice for families all over the UK.
Their admirable work is literally changing lives for the better. None of this would be possible without the generosity of their supporters.
Click here to watch a moving video on children have been impacted by the organisation.
To donate £5 to The Elizabeth Foundation, text TALK45 £5 to 70070. For more information on the brilliant work of our Chosen Charity, visit www.elizabeth-foundation.org
Here are a few of the many forthcoming fundraising events in aid of The Elizabeth Foundation:
Date: Thursday 11 October 2018
Venue: The Elizabeth Foundation, Cosham, PO6 3LL
£30 team of four includes food. Bring your own drink. Twelve teams joined us last time for a great fun evening. Medal for the winners!
Date: Saturday 2nd June 2018
Venue: Gunwharf Quays, Portsmouth
An iconic Portsmouth landmark with a view over Portsmouth that is second to none. We need plucky participants to abseil down the 300ft drop of the Spinnaker Tower. All participants get an Elizabeth Foundation T-shirt and medal. No registration fee and £300 sponsorship target. Email fiona.heath@elizabeth-foundation.org for details.
Date: 1-4pm, Sunday 8th July 2018
Venue: The Elizabeth Foundation, Cosham, PO6 3LL
Join our afternoon of family fun! Bouncy castle, barbecue, ice cream, lots of kiddies activities, tombolas and fun for all the family here at our Family Centre in Cosham.