It's Juice O'clock…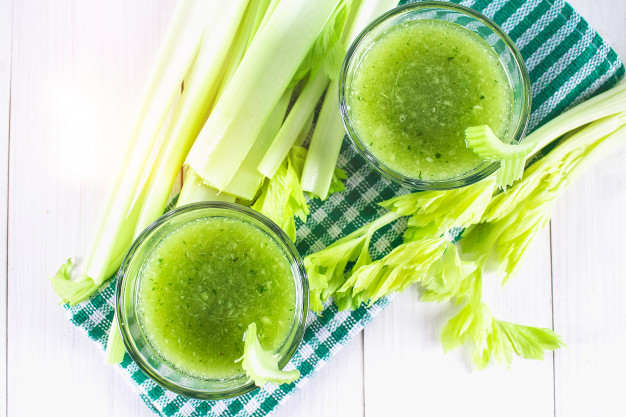 It's Juice O'clock…
Juicing; a health trend that's been around for a while now. You know, when you stuff fruit and vegetables into one of those fancy blender-type juicing machines and turn your apples and kale into, well, juice. Recently, celery juice has joined the craze. But people aren't just drinking it, they're swearing by it.
Eating celery stalks, while still healthy and important, is not the same as drinking pure celery juice. Researchers and health professionals say that when celery is juiced, the pulp (fiber) is removed and left is a liquid containing an endless list of health benefits and healing remedies. Problems which can benefit from this juice include things such as chronic illnesses, bloating, weight loss, eczema, blood sugar issues, psoriasis, migraines, acid reflux, acne, constipation, chronic fatigue syndrome, high blood pressure, adrenal issues, gout and allergies – the list is endless!
Experts advise that every morning, you should drink roughly sixteen ounces of celery juice (approx. one large bunch of celery) on an empty stomach. Celery juice is a medicinal drink, not a meal replacement, so you'll still need to eat the most important meal of the day afterwards aka breakfast! Note: wait at least fifteen minutes after drinking your celery juice before consuming food.
It is best to make celery juice fresh and then drink it immediately. But, if you're unable to make your celery juice right before you want to drink it, it's important to drink it within twenty-four hours of making it. Store the juice in the fridge and in a mason-type jar (Tip: old jam and chutney jars are perfect).
"I don't have time to do this every morning" Save time by rinsing the celery and chopping it the night before so it's ready for you to juice in the morning!
Ingredients: 1 large bunch celery.
Directions: Rinse and chop (if needed) the celery and run it through a juicer.
No juicer? Chop the celery and blend it in a high-speed blender until smooth. Strain well over a glass and drink immediately.