Portsmouth Choral Union - Come and Sing - Faure's beautiful Requiem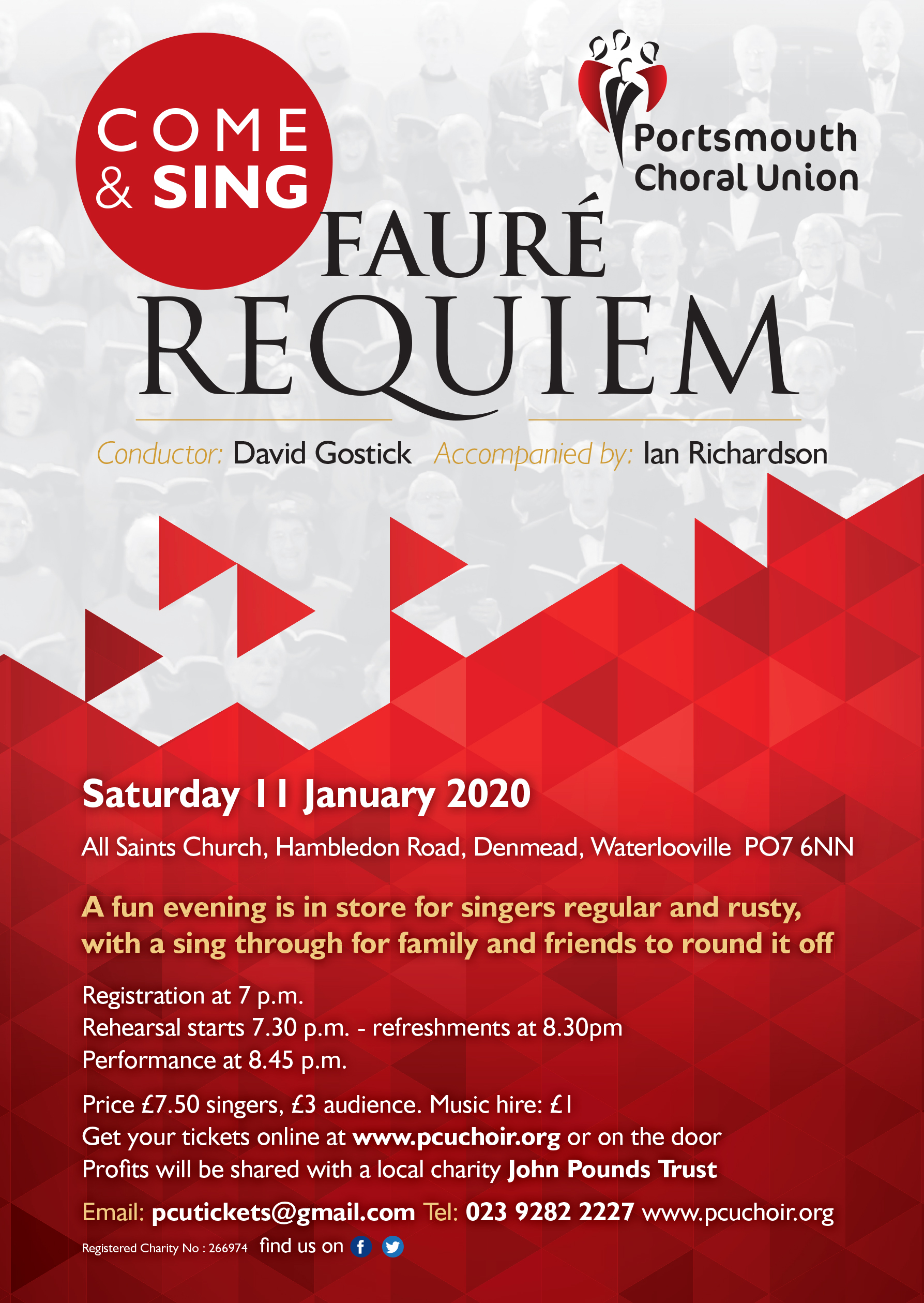 Portsmouth Choral Union - Come and Sing - Faure's beautiful Requiem at All Saints Church, Hambledon Road, Denmead PO7 6NN.
Have you ever listened to choral music and wondered what it would be like to join in?
Everyone is welcome to join singers from Portsmouth Choral Union for an evening of informal music making. If you have never sung in a choir before and would like the opportunity to try – then come along. There will be chance to get to know the music followed by refreshments and then an informal concert to your family and friends. The details are below – see you there!
If you would like to speak to someone about this or about joining the Portsmouth Choral Union please contact pcuregistrar@gmail.com.
Conductor: David Gostick
Accompanist: Ian Richardson
Registration: 7 p.m.
Rehearsal starts: 7.30 p.m. with refreshments at 8.30 p.m.
Performance: 8.45 p.m
Singers: £7.50, Audience: £3.
Music hire: £1.
Get your tickets on the door.
Profits will be shared with local charity John Pounds Trust who aim to supply charitable donations to school children in the Portsmouth area.
A little about Faure's Requiem
Gabriel Fauré composed the Requiem in D Minor Op 48 between 1887 and 1890. The choral-orchestral setting of the Catholic Mass for the Dead in Latin is the best known of his larger works. It's focus is on eternal rest and consolation.