Hampshire Fare Returns to Winchester's Christmas Market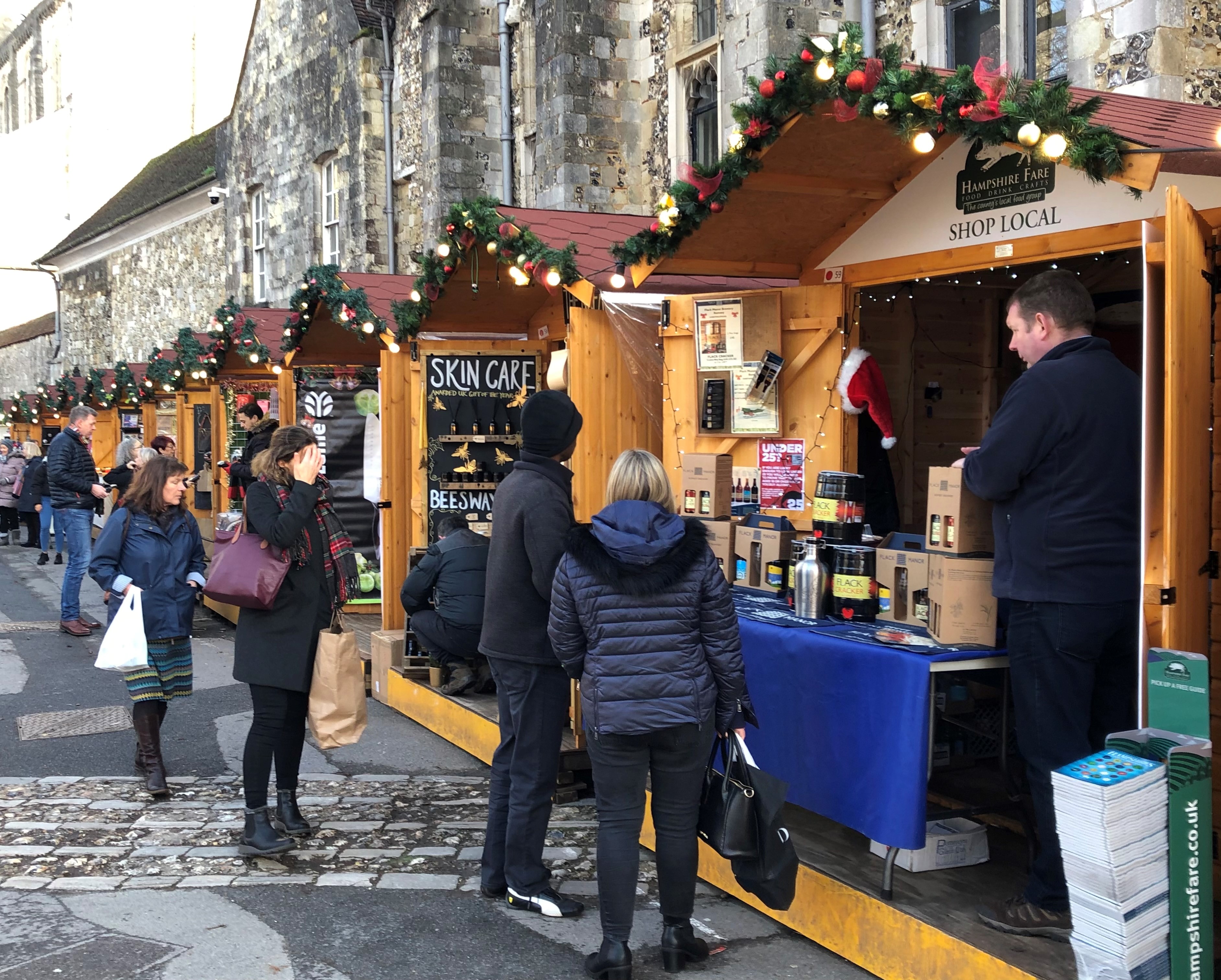 Hampshire Fare, the county food and drink group, is returning to Winchester Cathedral's Christmas Market, taking over a chalet from 5th to 22nd December.
Hampshire Fare took over a chalet at Winchester Cathedral's Christmas Market for the first time in 2019. The chalet proved a great success as it allowed smaller artisan producers to have a presence at this Christmas Market which has a national profile. It also provided visitors with an opportunity to discover a continually changing selection of local food and drink to purchase as gifts or for festive feasts.
This year the Hampshire Fare chalet will continue this format with a rota of 16 producers – each taking over the chalet on different days. This means there is always something new for visitors to discover, including local ales, gins and wines, artisan chocolates, homemade fudge and shortbread, locally roasted coffee, smoked trout and Hampshire charcuterie. Visitors simply need to look for the sign of the Hampshire Hog - the emblem for Hampshire Fare.
Tracy Nash, Commercial Manager, Hampshire Fare, said "We are very excited that the Hampshire Hog is returning to Winchester Cathedral's Christmas Market! We are confident that many are dreaming of a local Christmas this year and the Hampshire Fare Chalet is a great opportunity for visitors to buy quality individual gifts and stock up with delicious food and drink that's perfect for celebrations.
"The past 18 months has seen a growing appreciation of local. Here at Hampshire Fare we are aware of a massive increase in interest in sourcing and supporting local. Conscious consumerism is on the rise with people making purchases based on making a positive social, economic and environmental impact, so we expect buying local this Christmas will be more popular than ever."
One of the Hampshire Fare members who took advantage of this marketing opportunity in 2019 and is retuning this year is owner and chocolatier Trevor Smith of Beaulieu Chocolate Studio. Trevor Smith commented: "We love the atmospheric location of Winchester Cathedral's Christmas Market, and we are looking forward to bringing our own Christmas cheer with our handmade chocolate bars and seasonal favourites such as dipped orange, mints, New Forest Bark and hot chocolate dippers. Roll on December!"
The Hampshire Fare team is manning the Chalet on Monday 6th December and Monday 13th December handing out free Local Produce Guides and advising visitors about finding local. The Hampshire Fare Chalet will be available from Sunday 5th to Wednesday 22nd December inclusive, with opening hours from 10.00am-8.00pm Thursday to Saturday and 10.00am-6.30pm Sunday to Wednesday. To find out more about shopping local visit www.hampshirefare.co.uk.