Chocolate Peanut Butter Pancakes with Strawberries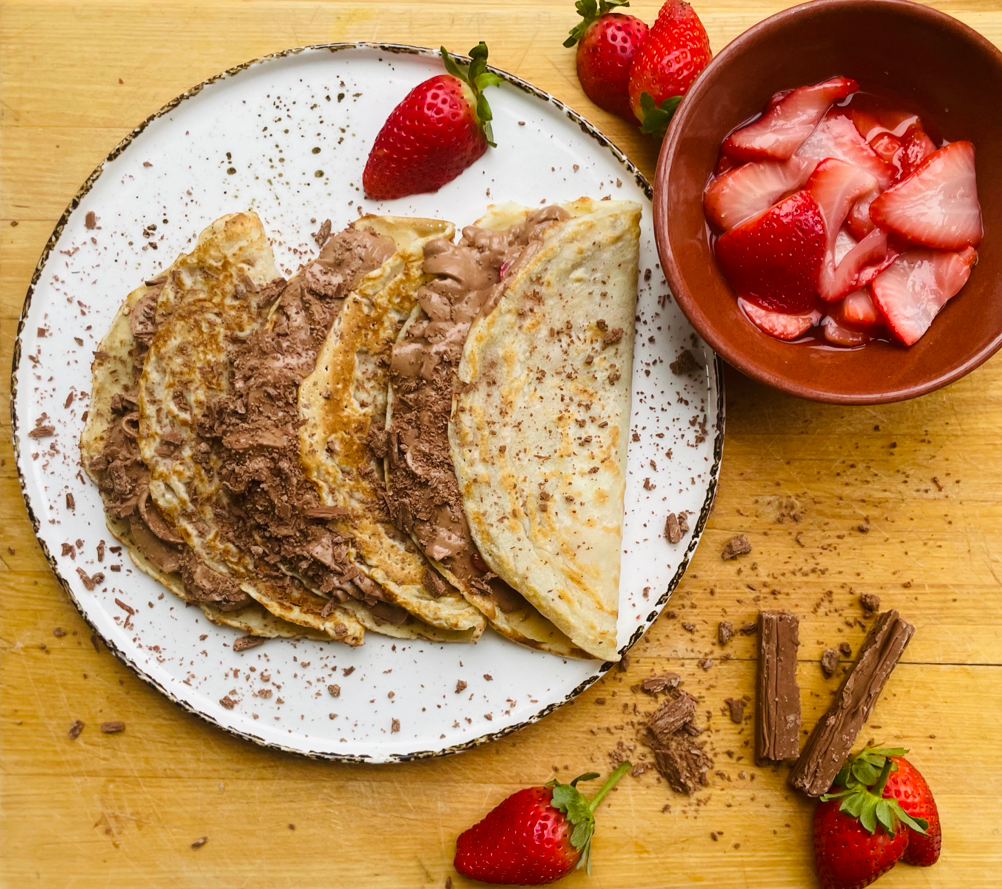 One of our favourite combinations is chocolate with peanut butter & this pancake with beautiful poached strawberries is always a winner. Easy to put together perfect for breakfast or pudding & a great addition to Pancake Day. I know strawberries are not seasonal this time of year so gently poaching them just brings out that wonderful sweetness & tempts us with flavours of summer.
Ive made mine Gluten Free but please feel free to use your favourite pancake recipe if this is not needed.
For the Gluten Free Pancake
250gm GF Plain Flour
250ml Milk Semi Skimmed or full fat
2 Large Eggs
25gm Cold Butter cut into small cubes
Sunflower oil
Whisk to combine flour milk & eggs.
Heat a non stick frying pan with a knob of butter & a little oil. Using a ladle place enough batter into the pan to thinly coat the bottom. Leave to cook for a minute or two until golden brown. Flip cook for a further minute & place on a plate until needed.
If you are piping in the filling use smooth peanut butter as crunchy will get stuck in the nozzle.
Filling
300ml Double Cream
75gm Peanut Butter
75gm Gluten Free Chocolate Spread I used Nutella
1 Punnet 275gm Strawberries sliced lengthways
20gm Sugar
Squeeze Lemon Juice
I used a flake bar crumbled to serve optional
Whisk the double cream, peanut butter & chocolate spread together until you have stiff peaks for piping/ spooning
Gently warm the strawberries in a saucepan with the sugar & lemon juice until the sugar has just melted and the strawberries still retain their shape (2 minutes approx)
To serve place a pancake onto your plate and fill half with a generous portion of the Chocolate , peanut butter cream. I piped mine but a dollop works just as well.
Spoon over the warm strawberries & sprinkle over flaked chocolate.