Smiles and support at the East Hampshire Dementia Festival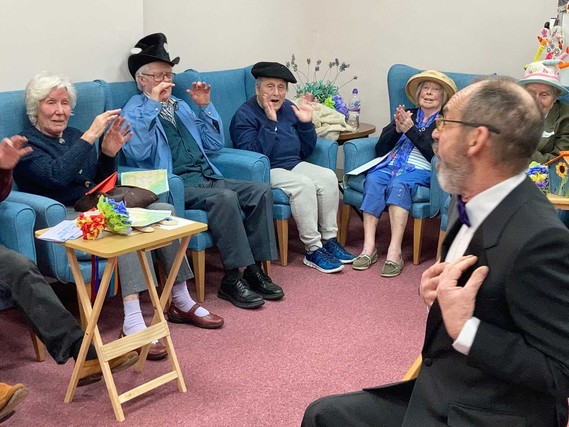 Find out about the services and support available to help people live well with dementia at a special event this April.
East Hampshire District Council and Dementia Friendly Petersfield are hosting the second East Hampshire Dementia Festival on Friday 8 April at the Festival Hall in Petersfield to give people living with dementia, their families and carers, advice about the best help available in the district.
Run between 10am and 4.30pm, the drop-in event is free and gives visitors the chance to pop along and try out some of the activities on offer and try their hand at something new.
Activities include gardening, a seated exercise programme, cake design and the chance to enjoy some nostalgic entertainment from the musical duo Tea for Two.
Dementia Friendly Champions and volunteers, who work hard to find ways to improve life for people living with dementia, will be on hand to discuss new ideas, such as walking football, cricket or a local coffee morning.
Cllr Julie Butler, East Hampshire District Council Deputy Leader, said: "The East Hampshire Dementia Festival is a great opportunity for people with dementia, or their relatives and carers, to find out just how much help and support is out there.
"The festival has a lovely atmosphere, everyone is very friendly and relaxed, and we hope lots of people come along to find out what's on offer and meet people who know how to help."
Dementia Friends Champion, Karen Murrell, said: "It's great to be able to show-case and raise awareness of the wide range of dementia-friendly activities available across East Hants. This exciting event promises something for everyone - do come along and try your hand (or voice) at something familiar or even something new!"
For more information on the festival contact Rebecca Davey, Welfare and Wellbeing Commissioning Officer at East Hampshire District Council, on 01730 234097 or email rebecca.davey@easthants.gov.uk or, alternatively, contact Jeff Williams, Dementia Friendly Petersfield, on 07849 195702.