Rowans Hospice Charity - Springtime Walk and Awareness Event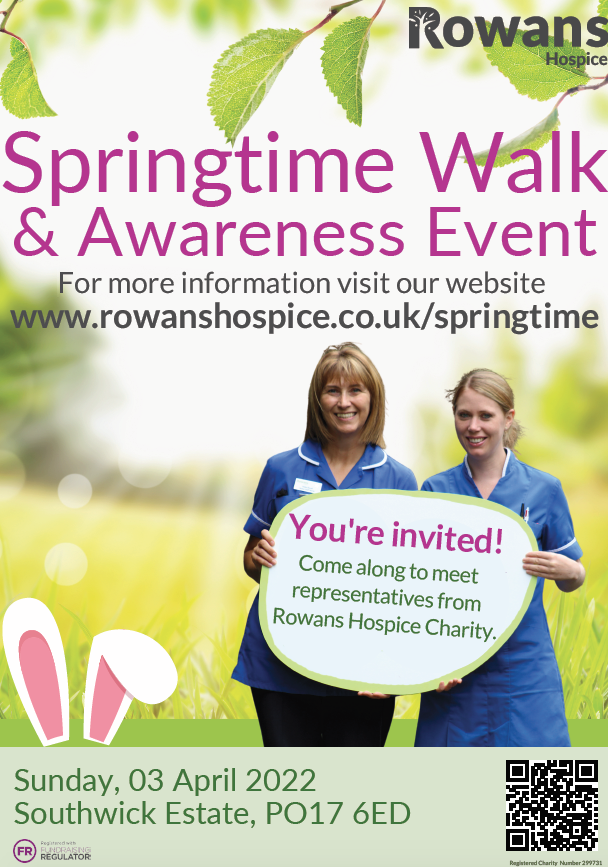 We are delighted to announce that our Springtime Walk and Awareness Event is being held on Sunday, 03 April 2022 and we invite you to join us at Southwick Estate to support local Hospice care, whilst enjoying the scenic views of Hampshire.
As we emerge from the many restrictions and lockdowns enforced over the last two years, the Charity is looking forward to its first in-person event this year. We invite you to join us from 10:00 - 16:00 at the D-Day Memorial Hall in Southwick to meet representatives from across the Charity. They will be available answer your questions about the Charity's services. We will also have representatives from our HR and Income Generation teams so if you would like to find out more about how you can support the Charity, please do come along.
In addition, our Springtime Walk will start at 11:00 on the Southwick Estate. This is a fun, family friendly event with a registration fee of £5 per adult, £3 per child (under 16 years) and free for under 3 year olds.
Carol Milner, the Charity's Director of Income Generation said, "Our Awareness Event is the first of its kind and we hope to see as many of our community at the event as possible. This is our first in-person event this year and we hope it will be well attended, we particularly look forward to welcoming everybody who has questions about our services. We are also very excited about our Springtime Walk and have created a beautiful route through the Southwick Estate. The Easter bunny will be on hand to give out Easter eggs to all the children who participate too."
We invite you to join us and would appreciate coverage in the run up to the event. Please contact marketing@rowanshospice.co.uk or call 02392 250 001 to discuss this further.
Website: https://events.rowanshospice.co.uk/events/springtime-walk-awareness-event/
Facebook event: https://fb.me/e/1oigb2AzM